It's official! I have a teenager. Ally James turned thirteen this month. It seems like yesterday I was scrambling to find every ounce of primary colored party loot for her first birthday and here we are, blogging her thirteenth celebration.
If you have followed this blog, you've seen how many Favorite Things parties I've thrown over the years. They are always a blast and I love that everyone walks away with treats. I have been encouraging Ally to have a Favorite Things Birthday Party for a few years now and she finally took me up on the idea this year. I've never seen this party concept done as a birthday party and I've always thought it would be really fun for tweens and teens!
So how does a Favorite Things Party work?
Set a number of Favorite Things each person will bring, a value for the item and how many of each item. For example: Think of THREE of your favorite things valued around $5. Bring three of each of them (9 total). Each guest will go home with 9 new favorite things.
Replicate and adjust this formula any way you want. Less or more items, lower or higher values, it's your party, do what works for your group!
Once you have the details nailed down, you'll want to make sure to include them in the invitation. For Ally's party, I used Minted for the stationary. They are my favorite one-stop shop for invites, thank you cards and even coordinating stamps! The best part is, almost all of their unique designs can be customized just for you.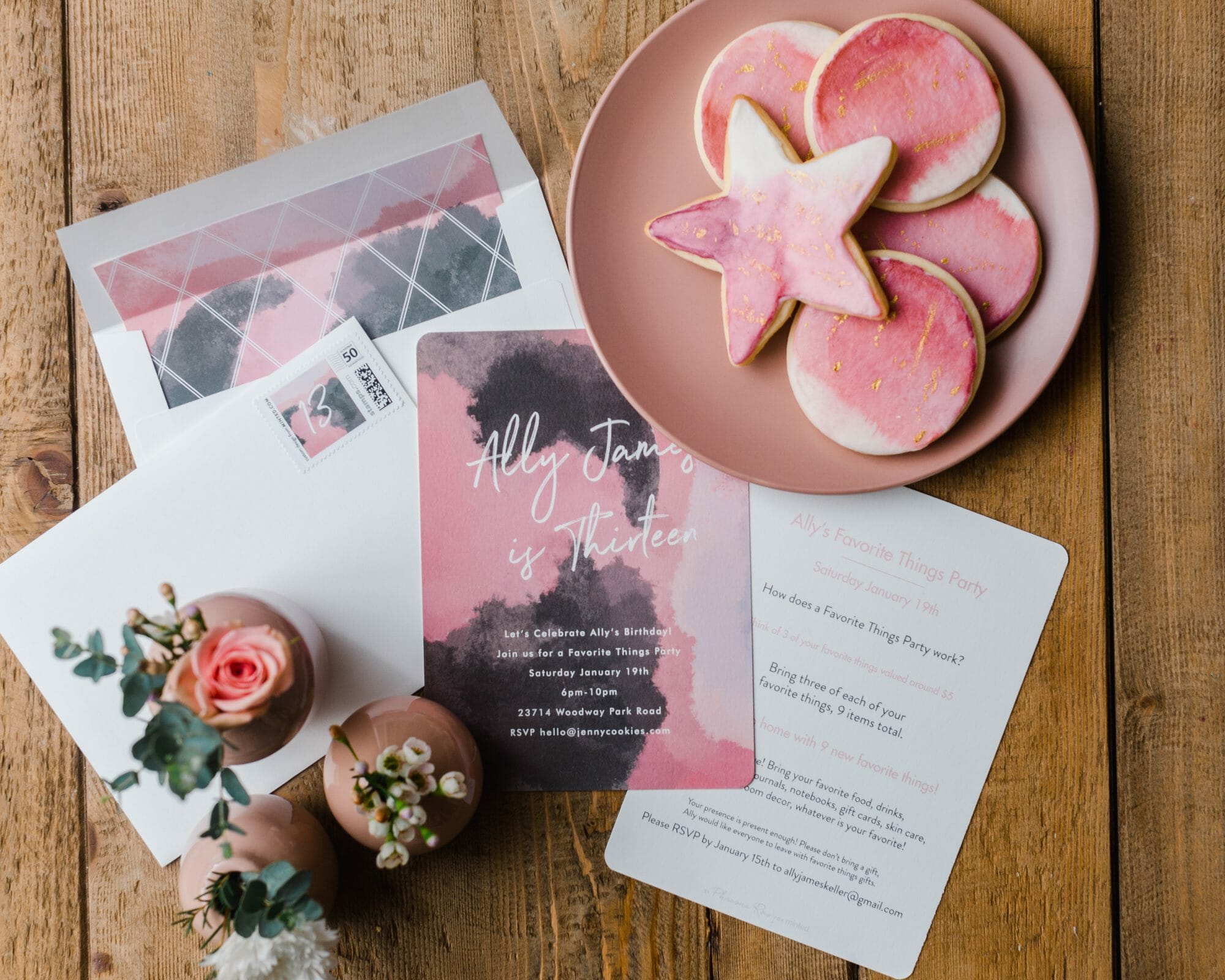 Once invites are in the mail, you'll want to think about the event itself. What colors will you use, what food and drinks will you serve, what activities will there be, how will people display their favorite things, how much dessert do you need?
(The answer to dessert is…a lot…always.)
With any party I throw, big or small, I always create a color palette to keep things cohesive. For Ally's party, I wanted a blush pink with some brighter pinks mixed in and a few pops of grey and blue. I found a wall mural at Minted that had exactly the colors I was looking for. I loved the pattern and thought it would be really neat to incorporate it into Ally's party as a photo op. Girls across the world are searching for fun walls, murals and backdrops for social media photos, so I figured I could bring one right into our home!
The wall mural was the perfect party planning starting point and I knew it would double as a party activity for selfies and group photos. (Side note: it was simple to put up and even easier to take down with no wall damage!)
The centerpiece of the Favorite Things party is always the Favorite Things table. Since we had 15 girls coming, I needed to make sure we had a table big enough for all of the girls things. Be sure to consider this when deciding where the "things" will go. I used my dining table and covered it with trays, cake pedestals, terrazzo boards and baskets. Look around your house to see what you already have that can be used for the table. I had several pieces from my last Favorite Things party that were perfect to pull from.
I popped into Anko, a new store in our area to pick up party supplies, decor and any other items that stuck out at me. I found these darling little bud vases for next to nothing ($4 for a set of 3!) and thought they'd be cute to set down the main table with small flowers tucked inside.
You'll likely want some sort of table runner down the center of your table to place the trays, baskets, crates and stands on. I loved the fabric of this blush pink throw and used it as a table runner. Think and look outside of your typical kitchen linen drawer!
Instead of having a goodie bag at the party, Ally added a few party favors to the Favorite Things table for her friends to take throughout the night. She found fun journals, glittery pens , pouches and perfumes for the girls.
Once the table is set, you'll want to decide what drinks to serve. I like to have a drink ready for guests as they arrive to parties. It's a nice way to greet your guests at the door and makes a pretty party area! If you have a bar cart, use it! My bar cart gets used over and over and can be styled a billion different ways.
I gave a classic Shirley Temple a spin with a sugared blueberry garnish and a sprig of rosemary. When you're planning your drinks, consider your color palette and guest list. I knew the Shirley Temple would give off a pink hue and it's a timeless drink for any age!
The bar cart looked fantastic up against our wall mural! I added a few flower arrangements in rose colored vases, extra glasses and a small tray of mini cupcakes. A fluffy pink rug tucked under the cart gave it an extra girly look!
I like to keep the party colors fluent throughout the party location, whether it's a rented event space or a home. The easiest way to incorporate the party color palette is with pillows! I swapped out my everyday pillows and throws for fluffy, soft pillows and blankets to coordinate the party. Our cat Charlie spotted them pretty quick and made himself right at home.
It's party time! As guests arrive you'll want to show them where to put their goodies and offer them a drink. Guest will likely gather in the room with the Favorite Things table, ooohing and aaahing as last minute guests trickle in and fill up the table. Friends will linger around the table and chat about what they brought, why it's their favorite and scope out what they want to take home.
Ally's table was full of beauty products! I've never seen so many bath bombs and face masks!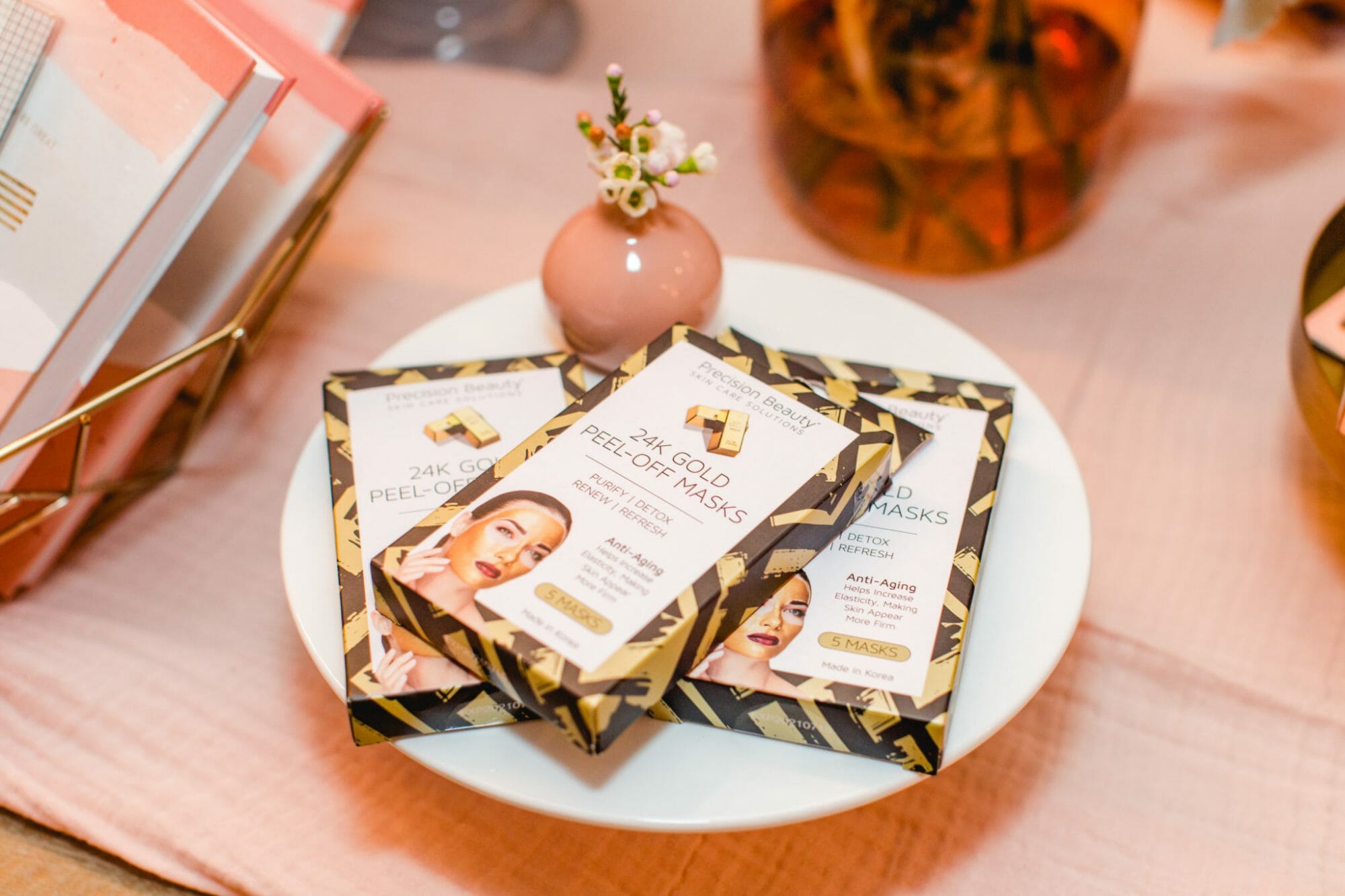 When the table is full and everyone is ready, hand out something for each person to hold their items. It could be as simple as a bag, or perhaps a box or basket. Ally gifted each friend a cute basket to collect their goodies. It makes an extra fun take home favor and they'll be able to re-use it at home for something else!
Take a minute to share with the group how the party will go. I normally divide the night into three rounds with activities in between, meaning guests can choose three items per round.
When everyone understands the rules you can begin! At the count of three, each person gets to select three items. One..Two..Three…GO!
It's typically a mad dash to grab those first few items and lasts less than a minute. Make sure you have your camera out to capture the action!
After the first round, it's a great time to eat! I asked Ally what she wanted to have for dinner at her party and she said McDonalds…so McDonalds it was! I dressed the food up a tiny bit by serving it in little polka dot food trays.
It was a hit! Probably the least expensive and easiest food I've ever served at a party… and the most money I've ever spent at McDonalds. Ha!
After the girls ate they did another round of Favorite Things and then took some photos in front of the wall mural.
(Pj pants from Gap and tops from H&M)
After the last round of Favorite Things, the girls did a little face mask and moisturizing with Ally's favorite Philosophy products.
I loaded my powder room with lots of wash cloths, hand towels and plenty of face wash, lotions and masks for the girls. Perfumes, masks and moisturizers fit perfectly in these desk trays!
And of course, we had scrunchies…
The activity between favorite things rounds can differ from party to party. I have done all sorts of different activities at parties from gingerbread house making to DIY crafting to Christmas caroling. You know your crowd! Think of something they'd like to do or aligns with the group's interests.
Face masks were perfect for our girls!
With clean skin and plenty of energy left, it was time for dessert.
I picked up one of these brushstroke looking art prints at Anko, brought it home and realized I needed two more because it made the perfect dessert table backdrop. I lined three up on my buffet and it turned out fantastic!
The dessert table held more pretty desserts than we ever thought possible to eat, but you'd be surprised to know there wasn't a crumb left after the party. Beautiful treats from hand painted buttercream cookies from Jenny Cookies Bake Shop, custom painted to coordinate the invite, backdrop and wall mural, to marbled donuts and miniature cupcakes topped with custom lollipop shards. It was all so pretty!
The cake was a showstopper, one of those cakes I would have liked to leave on my counter for a few weeks just to admire. Covered in buttercream brushstrokes and topped with homemade lollipops, it was definitely one of my favorite cakes to date.
When prepping your dessert table, keep in mind your crowd and if they are dessert eaters or not. I've had plenty of parties with just a small cake or a few desserts. Some years I go big and some years I scale back a bit. If I have more dessert than I need, I always offer a take home box for guests to pack treats home and always cut the entire cake up and offer slices to go. If it's a kid party, parents love to pick up kids and take a slice of cake for the road! There's nothing better than arriving home after a party with a box full of treats for the next morning!
Happy Birthday Ally James! This girl is pure gold. She has the character and integrity a parent could only dream of and continues to make me proud every day, year after year. My heart could explode just telling you how incredible she is.
A lot of people have asked if it makes me sad she is thirteen? Not at all. It just keeps getting better.
If you are inspired to host your own Favorite Things Party, I'd love to see it! Tag me in your posts!
To see a little more behind the scenes of the night, check out this fun video:
Pin this idea for later!
Photos by Kelly Clare
Video by Freestyle Production
THIS IS A SPONSORED POST. JENNY COOKIES HAS RECEIVED PAYMENT, TRADE AND/OR PRODUCTS IN EXCHANGE FOR PROMOTING, HOWEVER ALL OPINIONS STATED ARE MY OWN AND I ONLY PROMOTE PRODUCTS/COMPANIES I LOVE.