This Christmas I wanted to thank my COOKIE SQUAD at Jenny Cookies Bake Shop for all of the hard work they put in during the holiday season.  To celebrate the girls, I invited them to my home for a Favorite Things party.   I started throwing these parties several years ago when my first cookbook came out and haven't stopped since.  They are so much fun!
To ensure the girls a cozy, relaxing evening, I left matching PJ's at the bake shop a few days before the party and told them to wear them with their COOKIES sweatshirts.  Upon arrival, I had a basket of silly Christmas socks for everyone to slip into.  I think having some sort of dress code whether it's as simple as a certain color, a specific item (ugly christmas sweater)  or cozy pj's takes the pressure off and eliminates the "What am I going to wear" factor.  And let's be honest, I'm a sucker for matching.  I was that girl in middle school who planned out matching outfits with my BFF for the week.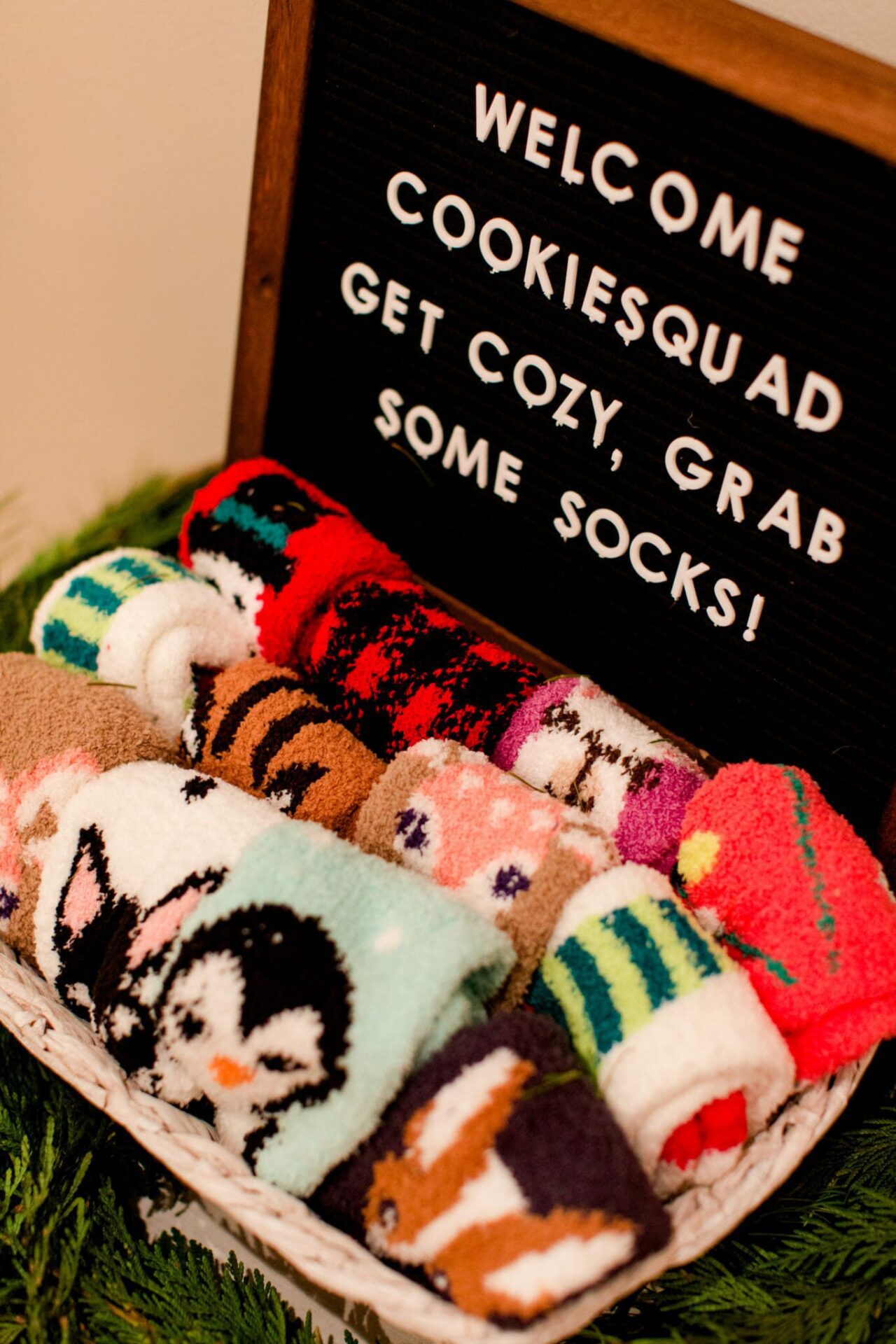 The party was a blast and I shared a few behind the scene peeks on Instagram stories but wanted to remember the night so I had my talented friend and photographer, Kelly, capture the fun.  Plus I got a ton of messages on Instagram asking how these parties work, so I'm going to give you a few pointers for hosting your own Favorite Things party!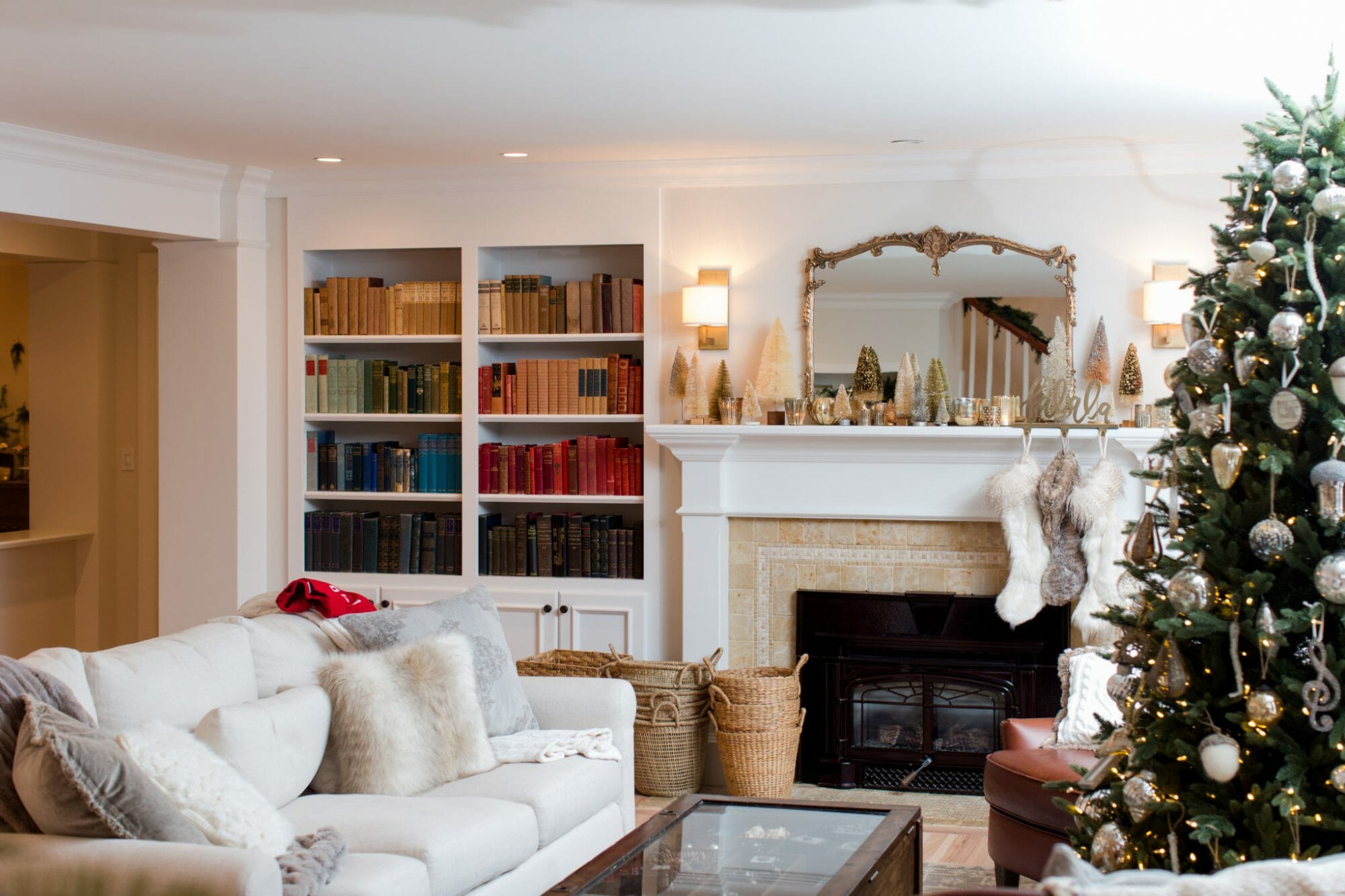 First, and with any party, always have a drink ready to serve when people arrive.  It doesn't have to be anything fancy, in fact the less fussy the better!   I made a simple Cranberry Wine Spritzer served in fluted glasses I found at Anko for $1!  Seriously.  One dollar.
If sparkling wine isn't your jam, another easy go-to is a Vanilla Dry Soda Cocktail.  It's literally Dry Sparkling Vanilla mixed with a little vodka and topped with rosemary and pomegranates.  Delish, and so cute.
When hosting, always be sure to offer a fun drink that is non-alcoholic.  You might have under-age guests or those who don't drink.  Provide the same festive glassware but in a separate area so there is no confusion with what is spiked and what is not.  I made a sparkling cranberry spritzer (same garnish) and infused water with cranberry and rosemary.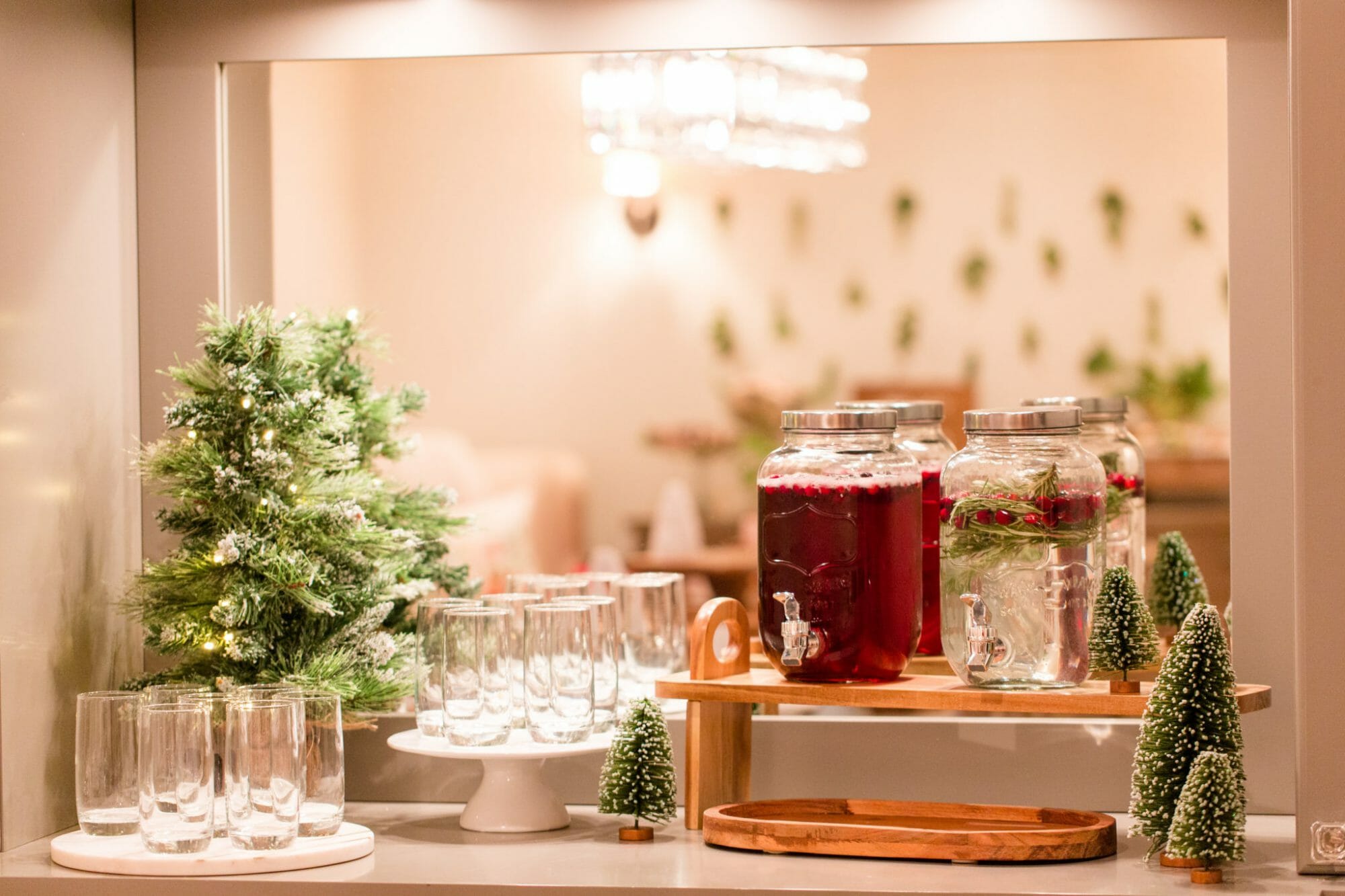 Take advantage of beverage dispensers.  They are so great to have when entertaining because people can refill their own glass without having to ask.  Set up a little area with extra glasses, drinks and don't forget to put a little tray or a few napkins under the dispensers.  They don't leak, but it's nice to have something to catch any dribbles or spills.
My favorite thing to make for parties and gatherings are charcuterie and cheese boards.  I believe it's difficult to enjoy a big meal when you're engaged in several conversations and there are a bunch of people.  Charcuterie style guarantees plenty of food options with easy access and it doubles as a pretty decoration.  Look how gorgeous these turned out!  I made 4 different boards on a variety of marble and wood platters and trays.  Learn how I make my Charcuterie Boards HERE.
To host a Favorite Things Party, you'll need to identify a few guidelines so that everyone is on the same page.  The great thing is, you can set limits and quantities however you want.  I have always asked people to think of 3 of their favorite things and bring three of each (so 9 total items).  The value of the items can be whatever you want, you know your crowd better than I do.  I've done $5 items and up to $20 items.  It really just depends on what your friends want to invest in the party.  At the end of the night, everyone goes home with 9 new favorite things.
For the main Favorite Things table, prepare an area with trays, baskets, platters and cake plates if you have them.  I always use a dining table and cover it with empty display pieces.  For this particular party, I found several items at Anko ranging from $5 – $19 and they covered my entire table!
Look around your house to see what you could use for your table.  Wood platters, trays and even coasters work.  Some items are small and look really cute placed on a coaster.  Get creative! 
As people arrive, have them place their things on the table.  Guests will mingle around the table and peek at what everyone brought.  You'll want your guests to label their things.  It's fun to identify who brought what and why it's their favorite.  Not only are you learning about a new, must-have item, but also more about your friends!
Before the Favorite Things activity starts, you'll want to make sure everyone has something to put their things into.  You can ask guests to bring a bag or gift them something to take their goodies home in as a take home favor.  I picked up a variety of baskets that I thought would be useful to them after the party.
Everyone grabbed a basket and I explained how the night would go.  There are nine total items to select, but I like to break it into three rounds of three items with activities and fun in between.
After everyone understood the format, I said "One, two, three, GO!" and everyone grabbed three things.
The first round takes all of thirty seconds because everyone pretty much knows what they want and grab it right away.
Between the rounds, have guests eat, refill drinks and mingle.  Set up a photo op for people to snap photos.
We also had a few special guests make an appearance at the party.  Our elves Buddy and Snowflake showed up and kept an eye on the Favorite Things table excitement.
Goldie made sure to be the center of attention and steal all of our hearts.
And everyone's favorite Instagram famous critter popped by to say hello.  Our pet raccoon Royce peeked through the windows at us to see all the fun.  Don't worry, we didn't let him in.
After our second Favorite Things round I announced I had a surprise activity.  We were going caroling!!  I knew half the group would love the idea and half would probably want to kill me, but I know for a fact that they all had fun!
I had music prepped, Santa hats handy and travel mugs ready to go.  I don't think anyone can put on a Santa hat and not feel festive.
In true Pacific Northwest fashion, we braved the dumping rain, grabbed our music and headed down the street.
As you can see in my expression above, caroling with the Cookie Squad was definitely the highlight of my year.
I can assure you, none of these girls will forget this for the rest of their lives.
We headed back just in time for round three and hot cocoa.  There is no better time of year than Christmas to enjoy a warm hot chocolate, especially topped with lots of marshmallows, sprinkles and cookies!   I decorated tiny sugar cookies baked with small slits so that they would fit on the edge of our mugs.  You can get my cookie recipe HERE.  
Offer guests a hot cocoa station to create their own or fix up a tray and hand them a mug.  Who could resist?
I made several hot cocoas and had them ready to go on a cookie sheet, tying in my cookie squad to the decor of the night.
Lastly and most importantly (to me), the dessert.  I believe the centerpiece of any party is the dessert table, though at a Favorite Things party, it can be overshadowed by the Favorite Things table and we don't want competition, so I kept the dessert fairly simple.
Since my team makes thousands of desserts at Jenny Cookies Bake Shop every week, I tried to fill the table with things different from what we have at the shop.  Little tiramisu, raspberry and pistachio treats, peppermint bark and lots of caramel!
Dress up little glass jars with sprigs of greenery tied on with a twine bow and add greens to pedestals and compotes.  Those little details make such a difference in the overall look!
I made a big batch of my Salted Caramel Bark for the girls which is always salty, sweet and delicious.  You can get the recipe HERE.
My newest favorite way to display treats is on a marble tray or wood board.  I'm telling you.. I love a good cheese and meat platter, but I think a beautiful dessert platter ranks even higher.
I made a few varieties on marble boards from Anko ($12.. for real..) filled with all of my favorite Christmas treats.  Brookies (Brownies + Cookies), Lady Yum Macs, cake bites, caramels, Jenny Cookies, brownies, peppermint Joe Joe's and more.  It's the same idea as a meat platter, only with dessert!  You truly can't mess it up.
The girls nibbled a bit and then I sent them upstairs for a few surprises.
Once everyone was comfy,  I had the opportunity to thank my team and gush over each and every one of them.  I couldn't be more proud of our success and what we have accomplished in two short years.  I have watched several of our girls grow leaps and bounds since they day they started, personally and as part of our team.  We have grown together and become leaders in our industry and in our community.  We have created a culture in the bake shop that is rare and so very special to me.  I am grateful every day for the people that have come into my life because of a little cookie bakery in Lake Stevens, WA.
Since the party's theme was Favorite Things, it was only fitting to send the girls home with some of my favorite things.  My goal for the night was for them to feel spoiled, appreciated and loved on.  I know "stuff" isn't what makes you feel appreciated, but it doesn't hurt, right?!
My kids were thrilled to help me hand out gifts to each of my girls, starting with the cutest cozy blanket and my favorite Capri Blue candles. 
Next on the list was Top Pot Doughnuts.  They recently opened a store in Edmonds which is about a one mile walk from my house..so it's common to find me there on a Sunday with my family.  I figure if I walk there, that cancels out the doughnuts, right?
Coffee keeps me going and I know it does for a lot of the girls too.  Each of them had personalized mugs to take home for the morning to enjoy with their doughnuts.
The late night snack was from the best macaron shop on earth, Lady Yum.  They have a new sugar cookie flavor that we all definitely needed to try..and you should too!
The last surprise may have not been much of a surprise to the girls because they see me in them every single day… VANS.  I live in mine.  I have every color and pattern and then right when I think I have them all they come out with a new color that I can't live without.  I'm kidding..but I really do love them so much.  So each girl got a new pair of checkered vans because in my mind, every closet should have a pair..it's a basic!
I loved every minute hosting my team and I believe they all had a great night too.  It wasn't ever about all the "things", but a great opportunity for everyone to get together and spend time outside of the bake shop feeling appreciated, valued and cared for.  If you have a hardworking team or a special group of friends, I highly recommend doing something like this.  You won't regret it!
I love giving and I'm so excited to share that I've partnered with Anko to give you the chance to win a prize pack of some of my favorite Anko items plus a personalized copy of my cookbook!  The giveaway starts now and will close on Friday, December 21st at 11:59pm.  Participation is super simple! Just sign-up to win on this page, and you're in the running to win one of the three holiday prize packages.
Thanks for following along and supporting my blog!  Stay tuned for a couple of How-To videos featuring the Charcuterie and Cheese Boards I made plus the Cranberry Wine Spritzer recipe!
Pin this idea for later!
Photos by Kelly Clare Photography