It's no secret my favorite place on earth is Disneyland.  I first visited the park as a little girl, spending nearly every summer or spring break there.  When I had Ally, I could hardly wait to introduce her to the magic of Disney.  She was about 8 months old the first time she went to the park.  13 years later, Dan and I have taken the kids dozens of times as a family and in recent years discovered it's even more fun just the two of us!  He knows the way to my heart is a date at Disneyland.  It always has been, and always will be, the most magical place to be.
Imagine my excitement to meet Erica, someone who actually just might love all things Disney more than I do.  It's true.  This girl lives, breathes and thinks Disney 24/7.  She is a real life Disney princess.  (If I had to name the princess, I'd say Giselle from Enchanted is the best description of her, second to a girl version of Buddy the Elf)
I met Erica through Instagram.  She shared the same love of cookies, dessert, family and Disney and began commenting and engaging on my social posts years ago.  Soon thereafter, we connected outside of Instagram (her family's company created our signage at Jenny Cookies Bake Shop) and then coincidentally I awarded her Free Cupcakes and Cookies for a Year at our bake shop's grand opening.  As she came down monthly from Sedro Wooley (a good hour's drive from the shop) to pick up her treats, we became friends.  She came to a couple of cookie workshops and gushed that she'd love to work at the bake shop.  By this time I had fallen head over heels in love with her energy and contagious happiness.  I didn't care that she lived an hour away, she could work once every six months for all I cared.  I LOVE people who spread energy and joy.  It's rare, so when you find them, you don't let them go!
Fast forward to Erica joining the Cookie Squad, now a regular face at our Disney meet & greet days and cookie workshops.  She always show up in Disney apparel, whether it is Disney day or not.  She always rocks it.  And because we share the same love (well almost the same..my level isn't quite to her level), we'd been planning to go to Disneyland together one day.
And then it happened.  After filming a segment on Hallmark's Home and Family Show, we hit the road to Anaheim.  Dreams do come true you guys!!
We weren't sure we'd have time to go to the park, but just in case we were able to swing it, Erica packed us matching ears, tees and sweatshirts.  You see, she also owns the shirt company Happiest Tees on Earth, which could not be a better fit for her.  #punintended Erica even sparked Kelly's hidden Mickey magic, by agreeing to go along with us after a 10 year hiatus from the park and rocking Mickey ears all day.  Erica's joy is truly contagious.
I won't keep gushing over Erica, even though I could do it all day long.  If you want to live through her daily Disney obsession, you can follow her over at HappiestTeesonEarth or her personal Instagram ChocolateandPixieDust. 
After our time at Hallmark, we made it to the park at about 3pm, giving us 9 hours to soak in all the magic.  If you know Kelly, this is about three hours past her bedtime but I was prepared to give her all the Excedrin or force feed her espresso and coffee.  When you do Disney with me, you stay until the park closes!   (And if you're a real die hard, you shop for that last hour down Main Street)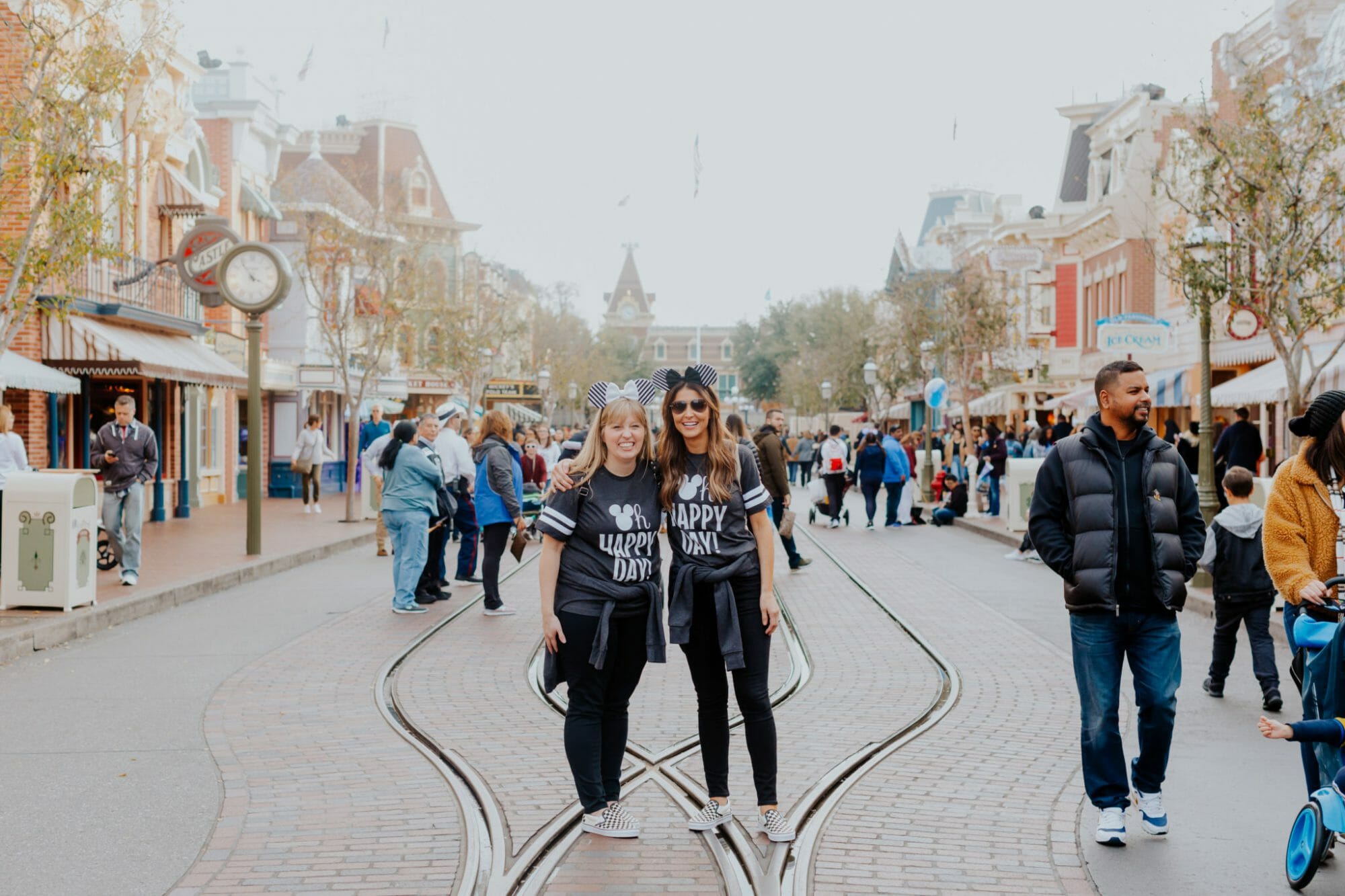 Before any rides, in true Disney fashion, we started with treats on Main Street.  Have you ever stopped to watch the candy magicians through the window?  I am always stunned at how graceful they make it look.  I truly cannot imagine making the same treat over and over, day in and day out, which is part of the reason I change our menu every month at Jenny Cookies Bake Shop.  I just can't imagine finding a job fulfilling doing the same exact thing every day.  But Disney manages to do it!
Between the three of us, we settled on a variety of treats from a Minnie caramel apple, a giant Mickey cake pop and a s'mores treat (MY FAV!).  Try it..it's the best!!
I could totally go to Disneyland just to eat and people watch.  No rides needed!
As we made our way down Main Street, the band came through.  I just love these guys.  It never gets old.
And by the photo below, you can see just how excited I get.  It could also be because my favorite corn dog cart is directly behind the band.  If you haven't had a Disneyland corn dog, you are missing out.  They are my favorite in all of the land.  Also the most expensive corn dog you will ever buy, but 100% worth the price.  And if the line is a mile long, go ahead and offer to buy the person at the front of the line their corn dog.  It'll cost you $8 and add one more hour to your Disney day of fun.  Picked that tip up from my friend Jen Morphy..who really does do this.  I've witnessed it.  
As you walk through the park be sure to take advantage of fun photo ops!  The balloon people are super friendly and are always happy to create photo magic with balloons.
As you pass through the park you'll see all kinds of treat stands.  Ice Cream, Popcorn, Churros, they are all good.  You cannot choose wrong.
We passed on the popcorn, but Erica pointed out something about Disneyland that I did not know!  Each popcorn cart has a little figure that spins the popcorn (see in photo the photo below, top left).   The popcorn cart by the Matterhorn has a Yeti cranking the wheel!  So cute!
You can't do Disney without a Mickey Ice Cream!  They are the best.  I heard they are selling them at Target right now to celebrate Mickey's 90th birthday.  I wonder if they'll taste the same?!  If you've had one, let me know in the comments section!
Chocolate covered bananas are also always a hit.
The night didn't end there but the light went down so Kelly's great photos don't go much further.  We spent the remainder of our time riding Big Thunder Mountain Railroad and Pirates of the Caribbean in Disneyland and then ran over to California Adventure for more.  If you are contemplating paying the extra money for a park hopper, I highly recommend it!
Cars Land is THE CUTEST and I promise you'll LOVE the Cars ride (Radiator Racers).  I got talked into going on Guardians of the Galaxy and lost a year of my life from fear of heights (though the picture below says otherwise) and then we took a lap on the Incredicoaster…which smells like cookies at one point in the ride so obviously it's now my new favorite.
We ran back to Disneyland just before midnight to close out the night on Thunder Mountain Railroad.  Here's a tip.. when you see the goat on Thunder Mountain Railroad, FOLLOW THE GOAT!  Keep looking at him the whole time.  Just trust me.
I don't know if I've ever laughed so hard at Disneyland or ever eaten so much food.  Not pictured: Churro Toffee (MUST TRY), Churros, Ice Cream, Corn Dogs, White Chocolate Macadamia Nut Cookies, Chocolate Peanut Butter Cookies, Street Tacos, Clam Chowder…. 
It was the BEST DAY EVER.  What are your MUST EAT and MUST DO Disney foods and activities?  Leave your favorite Disney tips in the comments below!
Pin this idea for later!
Photos by Kelly Clare