When the time comes each year to celebrate Ally's birthday, I like to commemorate the age by throwing a party centered around something she loves. Over the last 11 years we've thrown multiple princess parties, a pony party, spa party, bouncy house party, character themed party, ice skating party, you name it, we've thrown it. This year Ally turned 12 and we've discovered this girl LOVES to shop. If there is a mall nearby, she wants to go.
The mall was the obvious "venue" for Ally's 11th birthday. I had a game growing up called Mall Madness (total 80's child) that felt like just the right theme for her party. I don't remember the object of the actual game, but for Ally's birthday, Mall Madness it was.
To prep for the "party", I made a list of Ally's favorite stores at the mall and then came up with clues to each store. Each clue provided a treat, either a small gift card to pick something out or little gift once at the store.
I handed out the first clue which led them to the beauty counter at Nordstrom for a mini (12 year old appropriate) make-up sesh.
Each girl spent a few minutes getting a swipe of blush, pop of eyeshadow and picked out a lipgloss to take home.
Clue #2 delivered a pick-me-up surprise, a visit to Starbucks.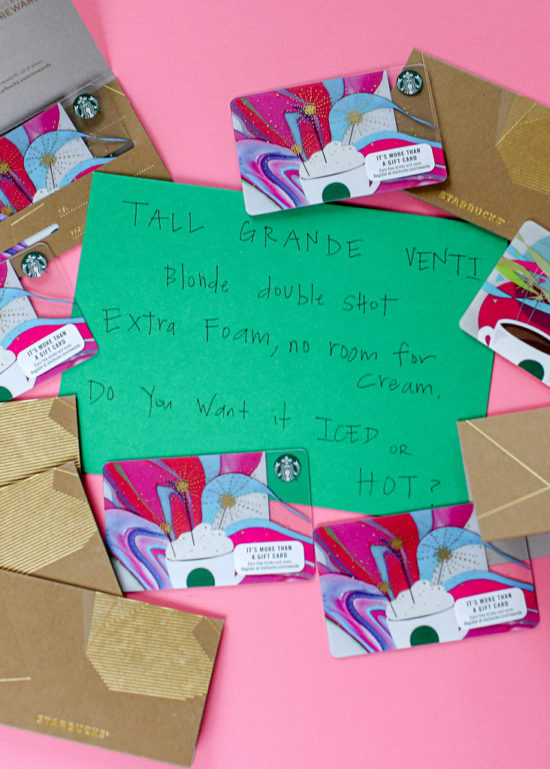 After frappuccinos and cake pops, the girls were ready for their next clue.
Clue #3 led them to American Eagle where a little jewelry and fragrance gift was waiting.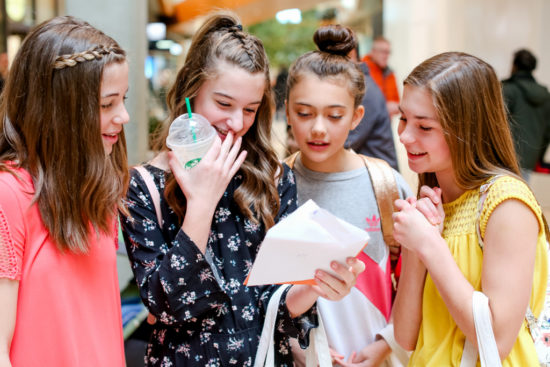 Clue #4 was simple to solve, Lush! Each girl was given a gift card to pick out a bath bomb, soap or scrub.
Clue #5 allotted us a candy break! If you haven't visited Lolli and Pops, run! I have introduced several friends to this store and they become quickly obsessed. They have every candy you could ever dream of and more. (Their grapefruit gummy bears are the BEST.)
The fun part about Lolli and Pops is, you buy your first jar of candy for $12.50 and can come back as many times as you'd like to refill it for $5!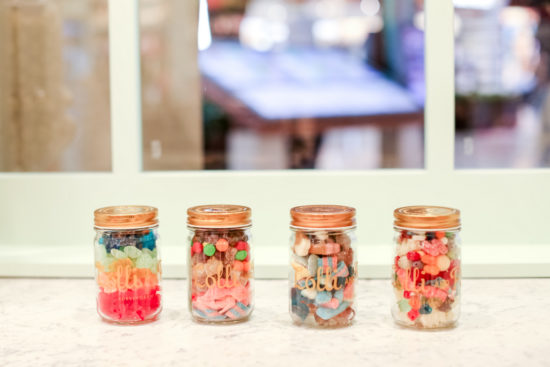 Our last clue led us to Ally's favorite store, Bath and Body Works. My daughter has a scented candle burning in her room 24/7 and always smells as fresh as a sun ripened raspberry. The girls LOVED picking out candles, soaps and other smelly goodies.
After all the shopping excitement, I surprised the girls with lunch at the Sugar Factory.
They were in for a colorful, sugary treat. This restaurant is the most Instagrammed restaurant in the United States!
Known for their over-the-top candy covered goblet drinks, rainbow colored sliders and insane milkshakes, we were blown away by the options and selection.
The girls sipped on three gigantic goblet drinks – Lollipop Passion, Ocean Blue and White Gummi.
And of course, we instagrammed.
They rounded off their colorful meal with rainbow sliders, chicken strips, pasta, salad, and fries, complete with the signature Sugar Factory duck.
Not only was our lunch fantastic, the desserts were incredible! The girls shared a HUGE Sugar Daddy Cheesecake Insane Milkshake and a Cookie Jar Old Fashioned Sundae.
I don't know what I was thinking bringing a birthday cake. We had sooo many treats, we definitely didn't need a whole cake, but I couldn't resist one of our popular MAX cakes from Jenny Cookies Bake Shop!
To be totally honest, I thought the Sugar Factory would be more hype than good food but to my surprise, it was delicious! The service was fantastic, the atmosphere was fun and the food was super good. We'll definitely be back.
Ally had a blast celebrating her birthday with great friends, colorful food and more sugar than she ever imagined. I'm certain we had enough to last us until her next birthday!
Happy 12th Birthday Ally!
Pin this idea for later:
Photos by Kelly Clare Photography
SaveSave
SaveSave