In ten years of throwing children's parties, I've never thrown a baseball party! It's been on my party bucket list since the day my son Hudson was born. To say the least, I was thrilled when he decided he'd like a baseball party to celebrate his 8th birthday.
Classic party themes are my favorite and baseball definitely falls into this category! It's timeless, all-American, and who doesn't love baseball? It's a fairly easy party to host in your own backyard, at a park or even a local ball field.
The first thing you'll want to do when planning a baseball party is put together your overall concept. I like to outline the basics and then fill in the blanks/details as the party planning continues. With Hudson's baseball party, my initial ideas included:
Venue: Baseball field
Activities: Baseball game and/or drills, baseball pinata
Food: Hot dogs, chips, soda and concession treats
Dessert: Ice Cream Soda Bar with Dreyer's Slow Churned Simple Recipes light ice cream.
Take Home Favors: Baseball hats
After putting together the initial concept, it's time to design an invite! There are thousands and thousands of baseball invites online to choose from and a billion different ways to send them out. I enlisted the help of Erica of Harper Gray Designs to create a baseball invite that we could have printed on an actual baseball. It turned out so adorable! We also included a little card/ticket insert inside each box with the party details.
Depending on how old your crowd is, you'll want to plan for party activities. We had a wide variety of ages, from as young as 1 to as old as 60. We decided on a few baseball drills and a leisure game of baseball.
The "ticket" card we included in the invite asked guests to wear either red or blue, and to bring their glove. I had a feeling there would be guests who forgot their glove so I picked up extra for just in case. Value Village is a great place to get inexpensive gloves and gear. We found a bunch for around $1.50/each!
Instead of take home goodie bags, I had red and blue hats made at a local sports store for each child and adult with Hudson's logo (also designed by Harper Gray). We created a "Hudson Astros" logo inspired by the Houston Astros.
No baseball party is complete without a concession stand! Any table or cart will work to display your goodies. I used a vintage wood plant stand as my table. The shape reminded me of old wood bleachers.
To replicate a concession stand, you'll want to include the obvious…Peanuts and Cracker Jacks, but also the nostalgic baseball treats like Big League Chew, Red Rope and Sunflower Seeds, which are always a hit with kids!
Use vintage boxes, crates and trays to serve your snacks.
With so many treats you can keep desserts to a minimum. I made a couple dozen baseball sugar cookies and a red velvet baseball cake for Hudson.
The cake was covered with a smooth white buttercream icing and decorated with red baseball laces drawn on. I found a vintage trophy at a second hand store for $4 and removed the base, making it the cutest cake topper! Hudson LOVED it. Instead of a cake stand, I used an old green film reel tin. I liked how it gave me a pop of green under the cake.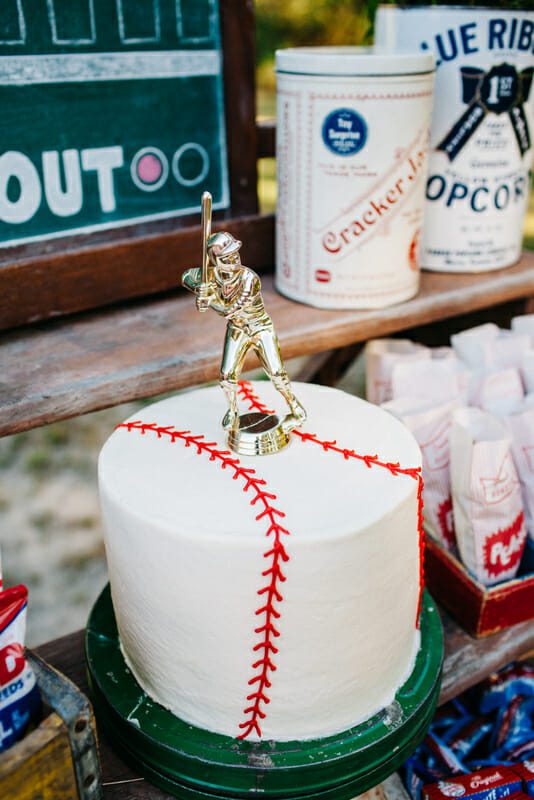 I think a lot of people would say flowers don't fit into boy parties but I totally disagree! Yes, pink peonies would be completely out of place. But fresh farm flowers in the right colors add the perfect amount of life to an outdoor baseball party! I placed them in a glass vase and tucked them down into a vintage popcorn tin.
Whenever I host an event away from my house, I try to keep food simple. It's already a lot of work to drag decorations and display pieces, and food is just one more thing to worry about. For a baseball party, I suggest keeping it easy and serving hot dogs!
I found this adorable hot dog cart from Nostalgia Electrics. It was simple to put together, lightweight, and cooked delicious hot dogs!
If you're planning on bbq'ing or renting/purchasing a hot dog cart, don't forget the condiments. You'll want ketchup, mustard, mayo, relish and sauerkraut!
Decorations were minimal, as in, one banner. Ha! The baseball field setting was plenty of decor. I had a banner made and hung it behind the backstop. It made a cute photo op!
My husband organized the activities and game. It was so much fun watching the little kids play with parents!
My daughter Ally who is more of a volleyball girl gave it a shot. She took a swing and got a hit! Go Ally!!
Even I gave it a try. And if there's one thing I'm not good at…it's athletics!
But I got a hit!!
After a few innings, we offered guests an Ice Cream Soda Float Bar. It's a great alternative and a fun change from your typical dessert table of cakes, cupcakes, cake pops, etc. not to mention very affordable!
To replicate our Ice Cream Soda Bar, you'll want to pick up a few of your favorite flavors of Dreyer's Slow Churned Simple Recipes light ice cream. We chose Vanilla, Strawberry and Chocolate. For our soda, we went with strawberry, orange, root beer and cherry cola. The Dreyer's Slow Churned Simple Recipes light ice cream really added another level of creaminess to our floats, with no added colors or artificial flavors!
I found little plastic baseball hats online that were perfect for serving the floats in.
The kids thought it was so much fun to choose their own soda and ice cream flavors.
Even the adults were experimenting!
You'll want to make sure you have spoons and straws for your float bar. Our guests utilized both!
After everyone enjoyed their float, the dads took turns at the plate.
For the last activity of the night, we hung a baseball pinata behind home plate. Instead of hitting it with a stick, we lined the kids up and on the count of three, let them throw a ball at it, which doubled as fun for both kids, and dads.
They got pretty close! We let Hudson get in there and give it a good swing.
It was such a fun party, definitely going down as one of my favorites.
Out of all the fun games, cute favors, delicious desserts and ice cream, my favorite part of any party is getting together with friends and family and creating these special moments we'll remember for years to come. I treasure the family photo we make sure to capture at each party and love looking back at them through the years.
My very close friend and crazy talented photographer Kelly captured this photo of my little family. I absolutely love it! I'm thrilled to be giving away a $500 family photo session from Dreyer's. Leave a comment below sharing how you create sweet moments together with your family to be entered to win a photo session in your hometown!
Pin this idea for later!
Photography: Kelly Clare Photography
THIS IS A SPONSORED POST. JENNY COOKIES HAS RECEIVED PAYMENT, TRADE AND/OR PRODUCTS FROM DREYER'S IN EXCHANGE FOR PROMOTING, HOWEVER ALL OPINIONS STATED ARE MY OWN AND I ONLY PROMOTE PRODUCTS/COMPANIES I LOVE. DREYER'S IS ALSO KNOWN AS EDY'S FOR THOSE OF YOU EAST OF THE ROCKIES
SaveSave